For us, it's all about people.
At Blake Medical Center, you'll find that caring extends to both our patients and our people.
We are committed to each other because when we join together, our patients are cared for in the safest and most compassionate way. Are you looking for an employer with many different career options and a people-focused culture? You've come to the right place.
Special Promotion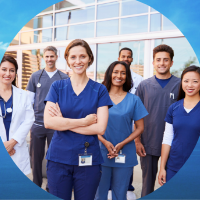 Registered Nurse Hiring Event Wednesday, January 23rd from 9am-1pm
Join us at our Registered Nurse Hiring Event at the Urban Loft in Bradenton. Registered Nurses of all levels of experience are invited to attend. Pre-scheduled interview slots with our Nursing leaders are available from 9am-11am, or you can stop by our open open house from 12:00pm-1:00pm. Opportunities for both experienced RNs interested in new areas as well as new RN graduates are available!
Learn More
StaRN New Graduate RN Program
The StaRN program is a 14 week, paid nurse residency program featuring didactic and clinical training. Don't miss this opportunity to give your new RN career a great start!
Employee Benefits
We focus on keeping benefits fair, smart and competitive with a full package of rewards that support your health, life, career and future.
Helping You Grow
Education and preparation are two key elements in providing the high-quality care that is delivered in our hospital every day. Through the following programs, employees within our facility have the opportunity to obtain a higher level of education, and be well prepared for their roles in our hospital. We offer tuition reimbursement, and continuing education and leadership development.
Frequently Asked Questions